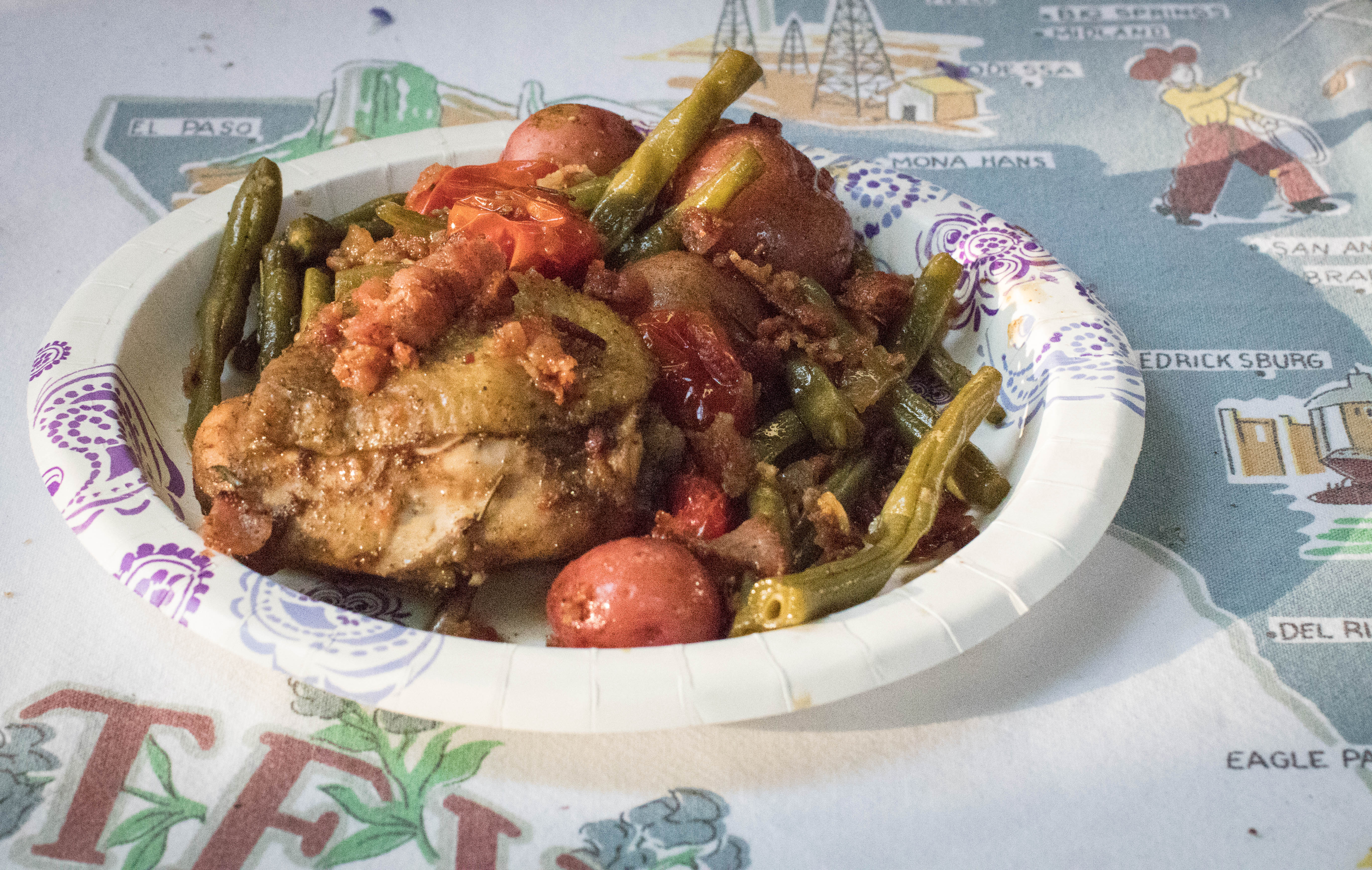 My better-half found this recipe from Tip Hero and said he wanted to give it a try in our camp Dutch oven.  Our first try was yummy, but…  the green beans were limp and lifeless, the skin on the chicken was approaching burned, and the chicken was way over due.  The chicken was yummy but the rest of the dish was over done.  So we went back to the grocery store for more chicken and veggies, picked up uncured bacon, and gave this easy one-pot meal another try.  Second time was a winner!

Prep time:  30 minutes
Cook time:  30-40 minutes
Serves four hungry family and friends
Ingredients:
1 pound bacon
2 pounds baby red potatoes
1 large onion, chopped (about 1 cup)
4 bulbs garlic, peeled and minced and divided
4 pieces of chicken, about 2 pounds (we love thighs)
1 teaspoon ground dried thyme
1/2 teaspoon dried chopped rosemary
1/2 teaspoon ground dried chipotle
1 teaspoon salt
1/4 teaspoon ground black pepper
1/4 cup balsamic vinegar
8 tablespoons honey
1 pound fresh green beans, ends trimmed
1 pint cherry tomatoes
4 sprigs fresh rosemary
Directions:
Fire up a chimney of charcoal.  Make a solid pile of hot charcoal to fit beneath a 12-inch camp Dutch oven.  Place oven over hot charcoal to fry the bacon.  Remove bacon and place on a paper napkin.  After all bacon is crispy and brown, transfer bacon grease to a heat-resistant container.  Rough chop the bacon.
Add onions, half of the minced garlic, and baby red potatoes to the 12-inch camp Dutch oven.  Pour several tablespoons of the bacon grease over the vegetables and toss.  Make a circle of 10 hot charcoal to fit underneath the oven, place lid on the oven, and add 21 hot charcoals around the lid of the oven to roast the potatoes and onions at 425 degrees Fahrenheit for 30 minutes. 
In a large zip top bag, place remaining minced garlic, chicken, thyme, rosemary, ground chipotle, salt, pepper,  balsamic vinegar, and honey.  Press out the air in the bag then close the zip top bag.  Massage the liquid and spices and chicken until the marinade is completely integrated and the chicken is covered.  Place chicken in a cooler to keep chilled for at least 30 minutes, longer if possible.
Remove the lid from the 12-inch camp Dutch oven and stir the potatoes and onions. Onions should be clear.  
Stir in fresh green beans.  
Stir in cherry tomatoes.  
Add fresh rosemary around the outer edge of the oven.  Place marinated chicken skin side down in the oven and pour marinade over chicken and vegetables.  
Replace charcoal if needed. Place lid on top of the oven and bake at 425 for 10 minutes, then turn chicken skin side up.  Bake for another 10 minutes.  Check internal temperature.  Replace lid and bake at least another 10 minutes until the interval temperature is 165 degrees Fahrenheit.  
Remove oven from heat and sprinkle chopped bacon over the chicken.  Enjoy!