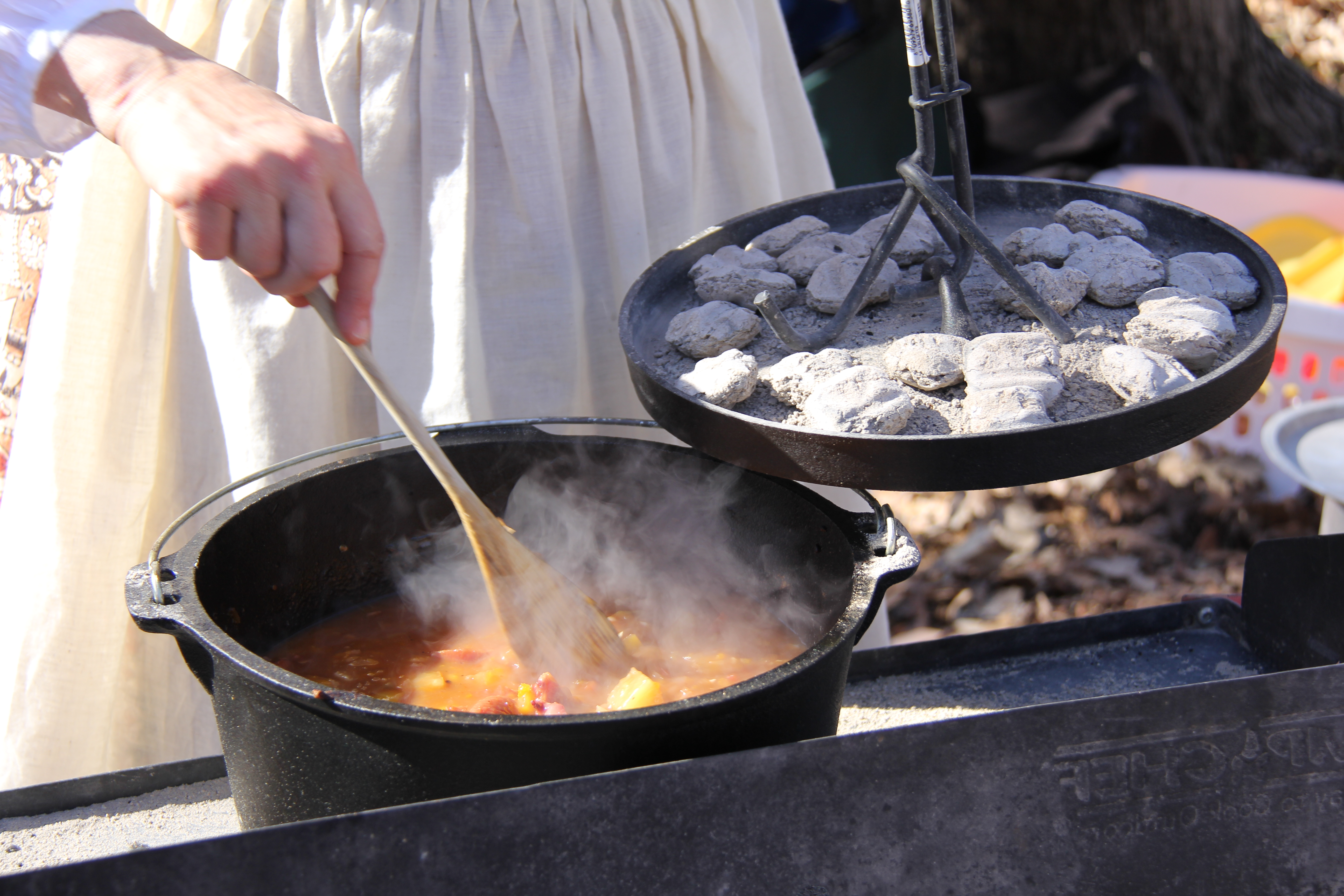 Cooking outdoors requires a few essential tools to safely manage the hot charcoal and move the heavy cast iron pots.  Fire safety is the number one goal.  Here are the tools we use to make sure we prevent injury and prepare delicious meals in our outdoor kitchen.
---
COOK TABLE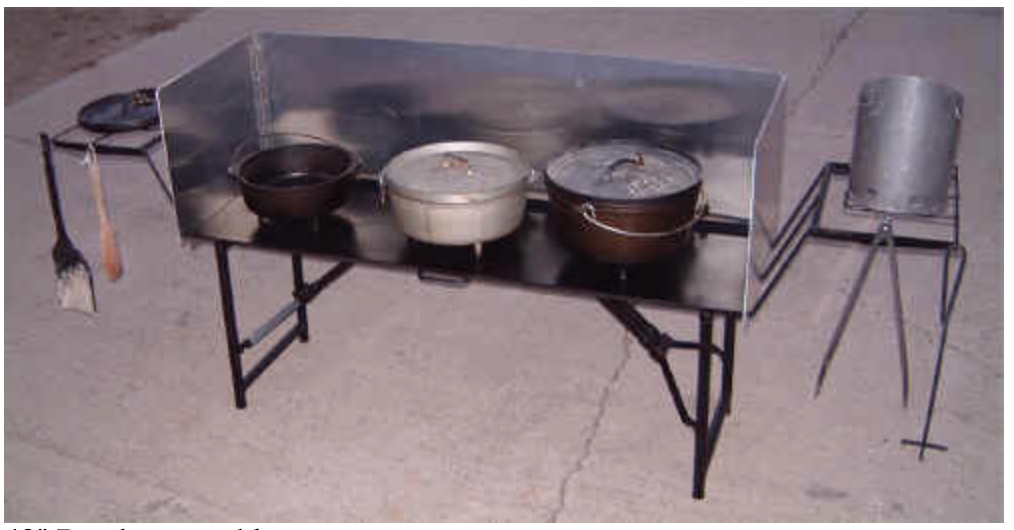 A cook table is not required as any stable, heat-tolerant surface will work, like a concrete pad or a utility drain pan that mechanics use to change oil.  My back just aches thinking about tending a hot Dutch oven that sits on the ground.  Ugh!!  A Dutch oven cook table provides a stable working area that is above the ground and is generally between knee and waist height.
Our favorite table is the 48-inch made by Chuckwagon Supply.  It is sturdy (therefore heavy!), tough as nails, and has plenty of room for up to three big Dutch ovens sitting side-by-side.  The wind-screen is tall enough to protect a double-stack of ovens, the side wracks are perfect for holding a hot lid, and it all folds up for easy storage.  (We do not recommend the carrying case as it wore out fairly quickly.  The steel table is heavy and has sharp edges, making it tough for the fabric and zipper to hold up under pressure.)  The price tag for this table is higher than the others we use, but it is an excellent investment.
Here are other options that have a smaller cook area (can only hold two big ovens), do not have side wracks, and are generally lighter weight tables:
---
GLOVES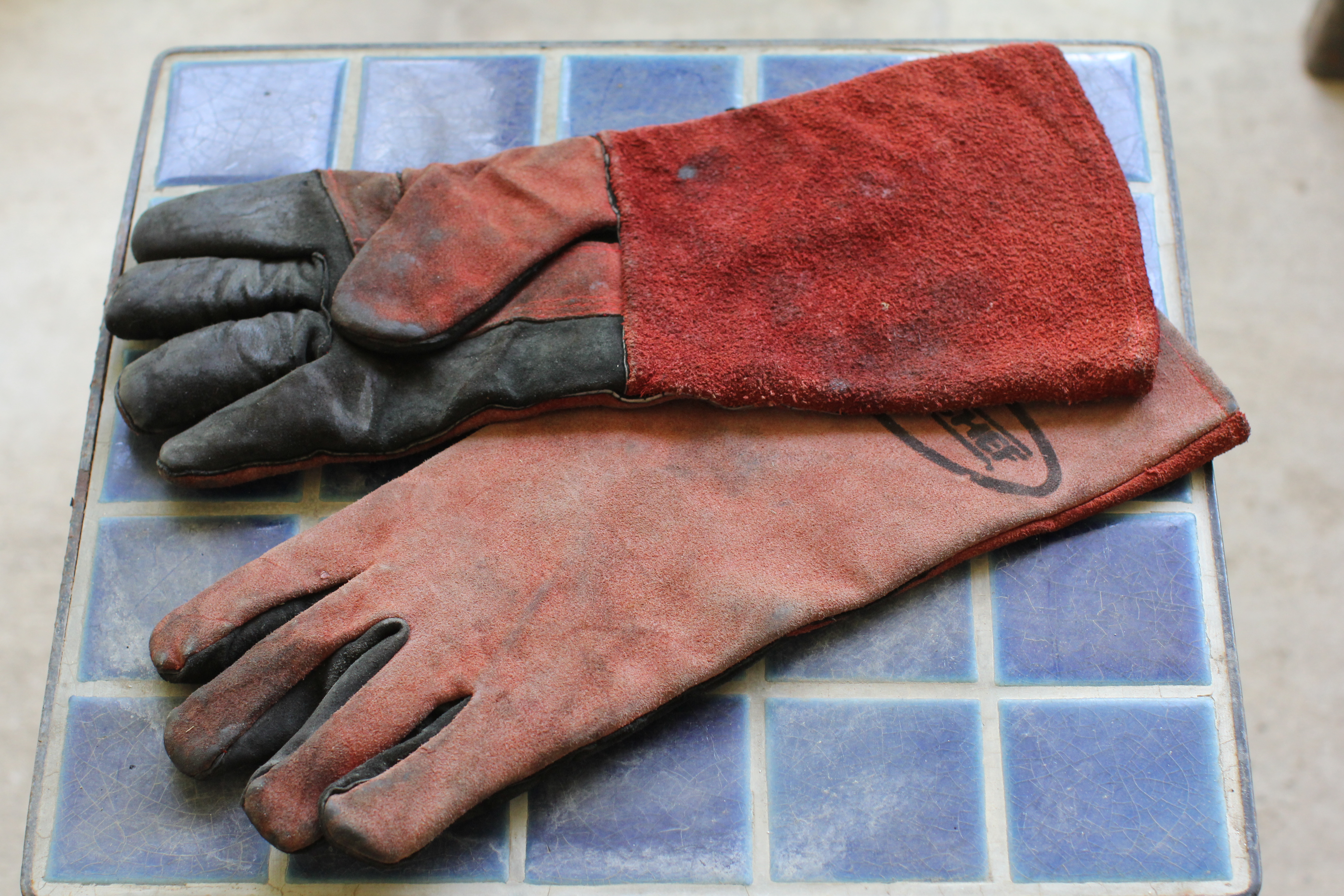 We don't have a favorite brand of glove, as long as they are heavy weight leather gloves that are heat resistant and come half-way up your arm, well past your wrist.  We have both Lodge and Camp Chef Dutch oven gloves and they have endured countless hours of hot work over the years.
---
LID STAND and TONGS
There are many different styles and types of lid stands and they all do the same thing:  provide a heat-tolerant, stable location to place a hot Dutch oven lid and keep it out of charcoal dust and dirt.  We also use lid stands to hold a hot Dutch oven on the serving table that may not be heat-resistant.  Our favorite are hand-made by friends who are skilled welders.  They create fun versions of lid stands using horseshoes, metal draw pulls, cut outs, and more.  Lodge A53 Original Finish Camp Dutch Oven Lid Stand is the most common lid stand that folds up for easy storage.  We like these simple tongs that are spring loaded and have large ends that pick up hot charcoal easily.
---
LID LIFTER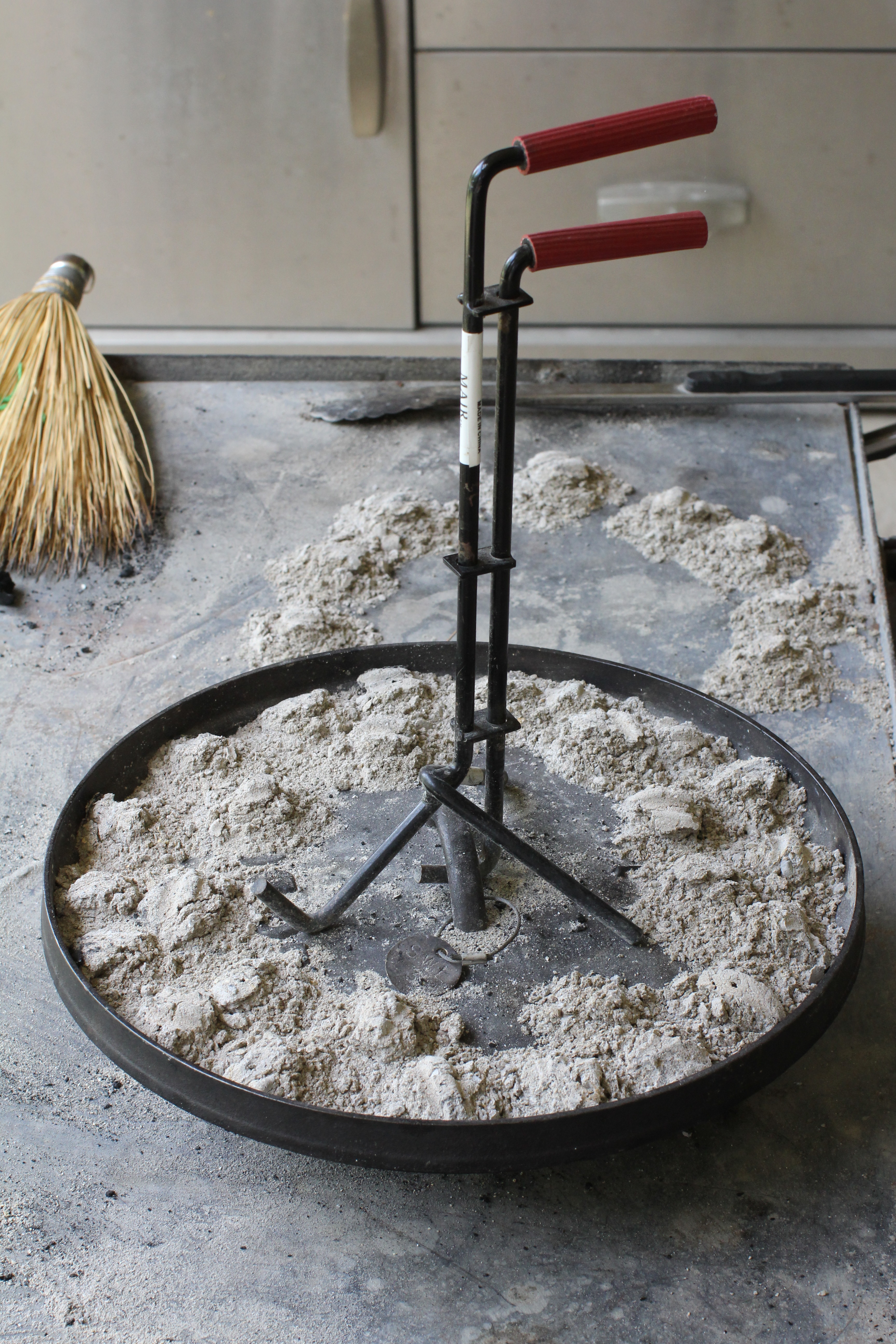 This is a Mair Lid Lifter and it is our very favorite outdoor cooking tool.  I conducted a very unscientific pole at a recent Dutch oven gathering, asking folks what was their favorite outdoor cooking tool.  With only a few exceptions, everyone said that this lid lifter was their favorite tool.  Here's why. It's simple design allows the cook to securely hold a hot Dutch oven lid in any position – level, at an angle to remove hot coals, or even upside down to knock of all dust from charcoal.  Since we cook on a table that is about knee-high, we like the mid-length lifter that allows us to pick up the lid without bending over and there is a nice distance between the hot lid and the handle to keep us cool.  There are other types of lid lifters that are very simple and effective (you can even use a pair of pliers!), but they don't provide the same level of security when moving a hot Dutch oven lid.
---
CHARCOAL CHIMNEY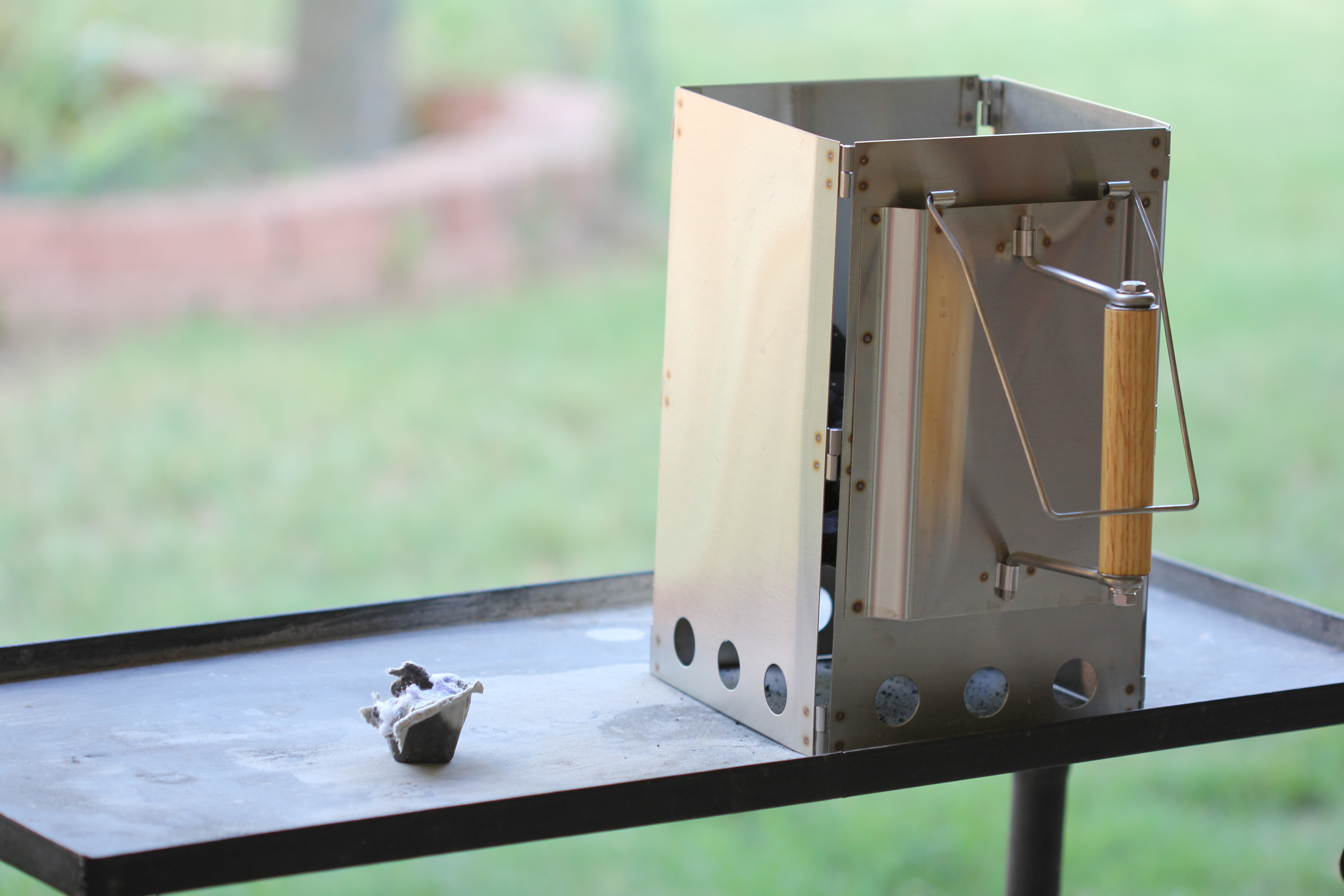 Charcoal chimney starters let us fire up charcoal without using fowl smelling lighter fluid.  It has a basket that sits about 3-inches above the surface to hold the charcoal up above a fire starter.  It has holes around the base to encourage flow of oxygen to the charoal and has a heat-tolerant handle that is protected from the hot sides of the chimney.  It also keeps the charcoal safely corralled while it is burning.
We have burned up countless bags of charcoal, and several charcoal chimney's along the way.  Most chimney's just can't stand the heat and get banged up in storage.  Until we found Sandbar's Flatfire Chimney.  It is super tough, made with steel not aluminum, and it folds up flat for easy storage.  Yes, it has a higher price tag than its aluminum counterparts, but it will stand the test of time, firing up hundreds of pounds of charcoal without bending, breaking, or falling apart.  If you can find one, get it!  Here are other chimney's that work well but don't fold up:
---
WIND SCREEN 
Even though our cook table has a nice wind screen, we often need more protection in very windy or cold conditions.  Steve cut this aluminum roof flashing into length long enough to encircle our biggest Dutch ovens and then added a few more inches.  He applied heat tolerant tape to the sharp edges to prevent injury.  Two large binder clips keeps it together and a nylon rope keeps it tightly rolled up during storage and transport.
Texas Iron Chef is a participant in the Amazon Services LLC Associates Program, an affiliate advertising program designed to provide a means for sites to earn advertising fees by advertising and linking to amazon.com.