I love to make scrubbies, and after you've read this post, I hope you'll love making them as well!  In this post, I will share a four-part video series to show you how to make the a scrubby, the perfect tool for cleaning cast iron and a great gift for friends and family.  This is an update on a post I wrote a while back.  I have added videos with more details on the difference between tulle, matte net, and mesh material, how to use a rotary cutter to cut the material into even strips, how to work with the cantankerous material,  how to tie strips together, how to hide the loose ends, and much more.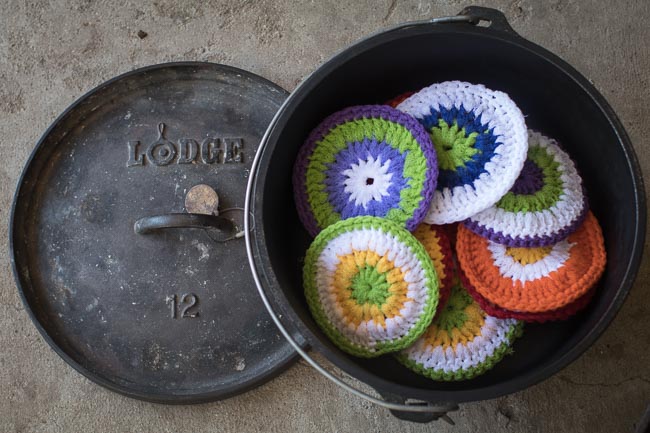 Here are my big tips for success in crocheting a scrubby:
Use matte net – if you don't know what this is, ask for help at the fabric counter.  Tulle is too soft and mesh is too tough.  Matte net is the perfect balance of toughness and workability.  
Work as loosely as possible.  The pointy-crunchy-pokey quality of matte net is what makes a scrubby so wonderful, but it also makes it difficult to pull through the crochet loops.  By working loosely, the crochet loops have more room and the matte net strip is less likely to catch and hang on itself.
Be prepared to YANK, and pull, and tug hard to get the matte net strips to move through the crochet loops.  The muscles in your hands will get a work out!
To clean a grimy scrubby, put it in the top rack of the dishwasher.
Purchase three yards of matte net.  I found it on sale at Joann's for $1.00 a yard.  Regular price was $1.49 a yard.  This should be enough material to make several scrubbies.  If you are like me, you will want several yards of every color available so that you can mix and match colors.  The combinations are endless!
In Part One (6 minutes), I show what an old scrubby looks and feels like, the difference between tulle, matte net, and mesh (I use matte net), and how to cut strips of matte net with a rotary cutter and mat.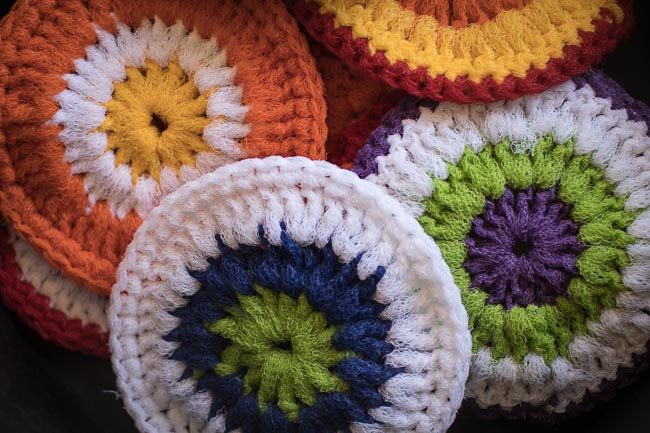 In Part Two (8 minutes), I show how to manage the unruly strips, how to crochet the base ring (chain 3), and how to double crochet around the ring to make the first (inner) round of the scrubby.  The first round has approximately 15 double crochets.
In Part Two A:  (8 minutes), I show how to attach a new color and crochet the second round.  There are twice the number of double crochets (30) in the second round as are in the first round.
In Part Three (10 minutes), I show how to crochet the third and fourth rounds and how to end it.  The third round has approximately 45 double crochets. The fourth round has 45 single crochets.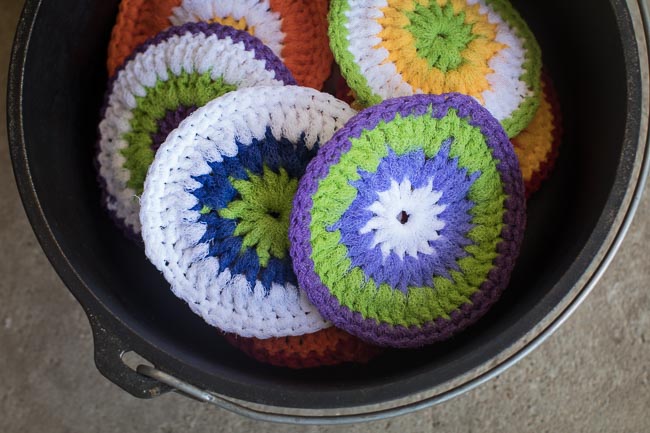 Bonus!  Cleaning cast iron can be misunderstood.  Here are some excellent resources about care of cast iron.
I hope this video series inspires you to grab your crochet hook and start making scrubbies! If you do, please leave a comment telling me about your scrubby or share your favorite tip for cleaning up a dirty camp Dutch oven.  I love hearing from you!